Principles of Physics I: PHYS 1408-001 & -004 (Winter 2016)
Course Information
PHYS 1408-001 Meeting Time: M,W,F 08:00 to 08:50 in SC 007 | PHYS 1408-004 Meeting Time: M,W,F 13:00 to 13:50 in SC 010
Instructor: Dr. P. W. Mengyan
Instructor E-Mail: Rick.Mengyan 'at' ttu_dot_edu
Office: SC 019; Office Hours: 45 min immediately following class. Other times by appointment.
Required Text for Lecture: Serway and Jewett. Physics for Scientists and Engineers (With Enhanced WebAssign). 9th ed. (Brooks/Cole, 2014).
The Varsity Bookstore and the Texas Tech Barnes and Noble have these in stock.
NOTE: Be sure to purchase the version that comes with the enhanced WebAssign access. The cost for WebAssign access only is almost as much as the book packaged with access and you must have access to WebAssign to earn credit for your homework.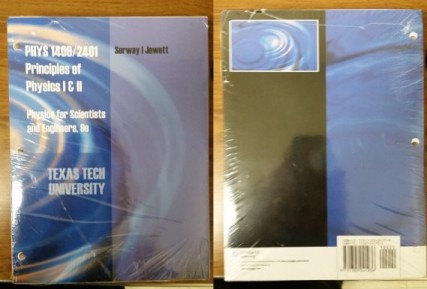 Required Lab Text: Only available through Texas Tech Society of Physics Students, out of room SC 004 from 25-29 Jan 2016 (specific hours will be posted outside SC 004) and must be purchased no later than 15:00 29 Jan 2016
Lecture Syllabus: Winter 2016 PHYS 1408-001 & -004 (pdf, HTML)
Lab and Discussion Syllabus: Winter 2016, PHYS 1408-(All Sections) (pdf)
Homework, additional course resources: will all be mediated through WebAssign (Course ID: ttu 7047 5582)
WebAssign Student Support: https://webassign.com/support/student-support/
WebAssign Quick Start Guide: Click here to download!
WebAssign Full Student Guide: Click here to download!
Tentative Schedule of Course Content
| | | | | | |
| --- | --- | --- | --- | --- | --- |
| Cl # | Wk | Day | Date | Chapter[s] | Content / Additional Detail |
| 1 | 1 | Fri | 22-Jan-16 | Intro, 1 | Syllabus, expectations, WebAssign access; Measurement, General Introduction |
| 2 | 2 | Mon | 25-Jan-16 | 1,2 | Scientific method; Problem solving proc; 1-D Motion |
| 3 | 2 | Wed | 27-Jan-16 | 2 | 1-D Motion |
| 4 | 2 | Fri | 29-Jan-16 | 2,3 | 1-D Motion, Vectors |
| 5 | 3 | Mon | 1-Feb-16 | 3,4 | 2-D Motion; Laws of motion |
| 6 | 3 | Wed | 3-Feb-16 | 3,4 | 2-D Motion; Laws of motion |
| 7 | 3 | Fri | 5-Feb-16 | 3,4,5 | 2-D Motion/Laws of motion/Forces/FBD's |
| 8 | 4 | Mon | 8-Feb-16 | 5 | Laws of motion/Forces/FBD's |
| 9 | 4 | Wed | 10-Feb-16 | 5 | Laws of motion/Forces/FBD's |
| 10 | 4 | Fri | 12-Feb-16 | Review 1-5; 6 | Review for Exam 1; Circular Motion |
| 11 | 5 | Mon | 15-Feb-16 | Exam 1** Moved to 19-Feb-16 | |
| 12 | 5 | Wed | 17-Feb-16 | Review Exam 1; 6 | Review Exam 1; Circular motion & Other Applications of Newton's Laws |
| 13 | 5 | Fri | 19-Feb-16 | 6 | Circular Motion & Other App. of Newton's Laws |
| 14 | 6 | Mon | 22-Feb-16 | 7,8 | Work and Energy |
| 15 | 6 | Wed | 24-Feb-16 | 7,8 | Conservation of Energy; Linear momentum |
| 16 | 6 | Fri | 26-Feb-16 | 7,8,9 | Energy, Momentum, Collisions |
| 17 | 7 | Mon | 29-Feb-16 | 8,9 | Collisions, Center of mass, rockets |
| 18 | 7 | Wed | 2-Mar-16 | 8,9 | Collisions, Center of mass, rockets |
| 19 | 7 | Fri | 4-Mar-16 | Review 5-9; 10 | Review for exam 2; Rotation of rigid objects |
| 20 | 8 | Mon | 7-Mar-16 | 10, 11 | Rotation of Rigid Objects; Torque |
| 21 | 8 | Wed | 9-Mar-16 | Exam 2** Moved to 11 Mar 2016 | |
| 22 | 8 | Fri | 11-Mar-16 | Review Exam 2; 11 | Review Exam 2; Torque/Newton's 2nd law, Moment of inertia, Kinetic energy, Rolling, etc |
| | | Mon | 14-Mar-16 | ** No Class ** | Spring Break |
| | | Wed | 16-Mar-16 | ** No Class ** | Spring Break |
| | | Fri | 18-Mar-16 | ** No Class ** | Spring Break |
| 23 | 9 | Mon | 21-Mar-16 | 11 | Torque/Newton's 2nd law, Moment of inertia |
| 24 | 9 | Wed | 23-Mar-16 | 11 | Kinetic energy, Rolling, etc |
| 25 | 9 | Fri | 25-Mar-16 | 11 | Angular momentum; Collisions |
| | 10 | Mon | 28-Mar-16 | ** No Class ** | Student Holiday |
| 26 | 10 | Wed | 30-Mar-16 | 12 | Torque - Rotational equilibrium |
| 27 | 10 | Fri | 1-Apr-16 | 12 | Torque - Rotational equilibrium |
| 28 | 11 | Mon | 4-Apr-16 | 12 | Torque - Rot Equilib; Universal law of gravitation |
| 29 | 11 | Wed | 6-Apr-16 | 13 | Gravitation, Grav Potential, Orbits, Kepler |
| 30 | 11 | Fri | 8-Apr-16 | 13 | Orbits, Kepler |
| 31 | 12 | Mon | 11-Apr-16 | 13, 14 | Fluids |
| 32 | 12 | Wed | 13-Apr-16 | 14 | Fluids |
| 33 | 12 | Fri | 15-Apr-16 | 14 | Fluids |
| 34 | 13 | Mon | 18-Apr-16 | 14, Rev for Ex 3 | Fluids; Review for Exam 3 |
| 35 | 13 | Wed | 20-Apr-16 | 15 | Oscillatory motion; SHOs |
| 36 | 13 | Fri | 22-Apr-16 | Exam 3 | |
| 37 | 14 | Mon | 25-Apr-16 | Review Exam 3; 15 | Review Exam 3; Oscillatory motion; SHOs |
| 38 | 14 | Wed | 27-Apr-16 | 15 | Oscillatory motion; SHOs |
| 39 | 14 | Fri | 29-Apr-16 | 16,17,18,39 | Select topics from 16,17,18 and 39 [as time permits] |
| 40 | 15 | Mon | 2-May-16 | 16,17,18,39 | Select topics from 16,17,18 and 39 [as time permits] |
| 41 | 15 | Wed | 4-May-16 | 16,17,18,39 | Select topics from 16,17,18 and 39 [as time permits] |
| 42 | 15 | Fri | 6-May-16 | 16,17,18,39 | Select topics from 16,17,18 and 39 / Overall review |
| 43 | 16 | Mon | 9-May-16 | Last day of lecture | Overall Review; Course/Instructor Evaluation |
| | | | | | |
| | | Thurs | 12-May-16 | PHYS 1408-004 Final Exam | 13:30 to 16:00 in SC 010 |
| | | Sat | 14-May-16 | PHYS 1408-001 Final Exam | 07:30 to 10:00 in SC 007 |