The 1980's began as a period of great promise for Australian comet observing. Australia not only had one of the world's most successful comet hunters, it also had an active, nationally organized group of amateur observers, providing a wealth of detailed, high-quality observations of southern comets. For much of the early part of the decade this promise was fulfilled. However by the end of the decade, cracks were starting to appear. Following unfounded criticism of some of the top Australian observers by certain Dutch observers, several, myself included, ceased forwarding observations to the Australian Comet Section, either sending observations direct to US organizations or dropping out of comet observing altogether. Perihelion, the ACS bulletin, also ceased to be a place for detailed analysis of observations, instead becoming a forum for the publisher's speculation. Thus, what started with great promise, had unfortunately dwindled badly be the end of the decade.
The star of the 1980's was, of course, the return of comet Halley. However there were many other highlights of the period. An ever increasing rate of comet discoveries, one of the closest approaches of a comet to the Earth for many years, numerous periodic comets well placed for viewing, and the view of a naked eye comet in the same telescope field as a naked eye nebula and a naked eye supernova!
On a personal note, I spent much of the decade undertaking visual observation of comets. In the early 1980's I sold the 5" refractor that I used extensively for photography, to raise funds for a 16" dobsonian, in the process becoming the first person in Western Australia to own a large dobsonian. At the time, a 16" telescope was considered HUGE, and certainly the view through a large telescope like that, under very dark skies, is something that has to be experienced to understand. It was not until after comet Halley that I was able to repurchase the 5" and get back into regular photography of comets.
Comet Bowell 1980b
One of the first comets discovered during the 1980's that I observed, was not a spectacular sight but none-the-less a very interesting comet. Comet Bowell was discovered by Ted Bowell of the Lowell Observatory early in 1980. Although never brighter than 10.9, and not having a visible tail, comet Bowell was interesting in that it had a hyperbolic orbit, indicating that it would never return to the Sun again. Also, it had very a large perihelion distance and would not reach perihelion until 1982. It was not until 1982 that the comet finally began to show evidence of gas in its coma! Finally, although peaking in brightness in February 1982, the comet showed considerable fluctuations in brightness as it moved away from the Sun and faded. My final observation was in late August, when the comet was around magnitude 12.5

Before comet Bowell became bright enough to observe visually, there were 2 periodic comets and one new comet that I managed to observe in late 1980/early 1981. These were comet Stephan-Oterma 1980g, and comet Tuttle 1980h.
My first observation of comet Stephan-Oterma was on November 4 when it was a small, moderately condensed object of magnitude 9.7. From there it brightened steadily until it reached magnitude 8.7 on November 26. My final observation was on January 15, 1981, when it was magnitude 9.9. At no time was any tail noticed.
I first observed comet Tuttle on November 11, when it appeared at magnitude 8.8 and fairly diffuse. It appeared at its brightest on December 6, when I observed it at magnitude 7.7. The coma was 7' across and diffuse, but no tail was observed. My final observation was on February 4, 1981, when the comet was still quite diffuse and magnitude 9.7.
Bill Bradfield discovered his 11th comet on December 17, 1980. Comer Bradfield 1980t was interesting even though it was always close to the Sun as it flared and fragmented. I observed it on several occassions during late December/early January as a 5th magnitude object with a tail of up to 2.5 degrees.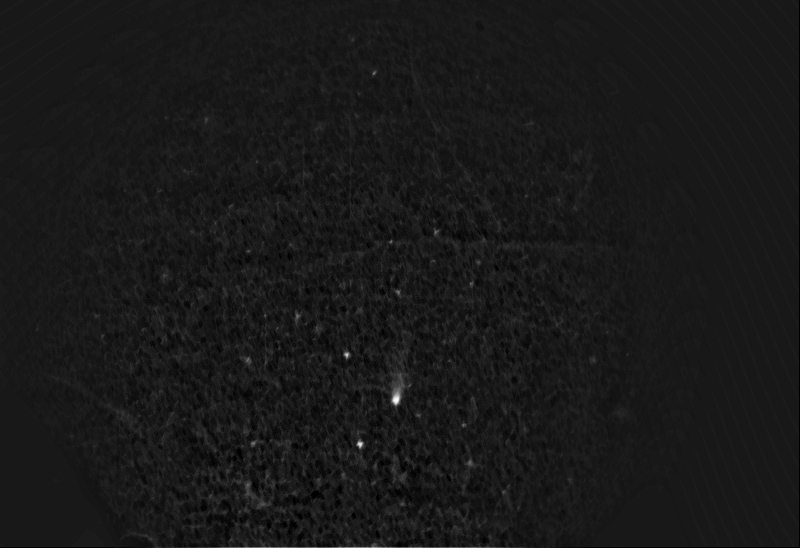 Comet Austin 1982g
1981 was a very lean year for comet observing and it was not until June 1982 that the drought of bright comets was finally broken with the discovery of comet Austin 1982g. Before that however, there were 2 comets worth mentioning. On February 5, 1982, Siding Spring astronomer M. Hartley discovered 2 comets on the same photographic plate. It was later shown that these were fragments of the lost comet Du Toit 2, observed only in 1945. Computations by Sekanina indicated that the comet broke apart in 1976. Despite many attempts during March and April with a 10" telescope, the comet was never visible to the eye. The other comet was a favourable return of comet Grigg-Skjellerup 1902II. Unfortunately, although the return of the comet was favourable, the weather wasn't! Thus, although the comet was easily visible in a 6" telescope, very few observations were possible.
Discovered by New Zealander R. Austin on June 18, put on a fine display during late July and early August, when it was an easy naked-eye object with a 2 degree naked-eye tail.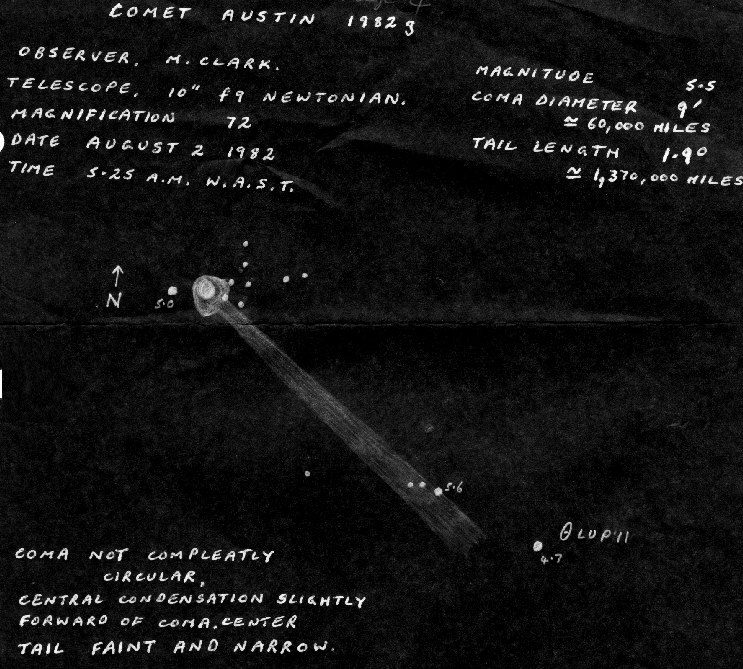 The best view for southern hemisphere observers was on August 2, when the comet was magnitude 5.2 and had a 1.9 degree tail. After this, increasing sky brightness due to the moon and the comet's increasing northerly declination made the comet increasingly difficult to observe. My final observation was made on August 6, when the comet was magnitude 4.3, but deep in the twilight, with only 1 degree of tail visible in a 10" telescope.