TTU Physics & Astronomy: Faculty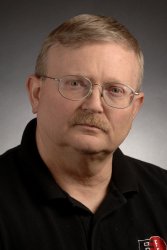 Thomas Gibson
Associate Professor of Physics
Office Phone: (806) 834-1561
Email:
Thomas.Gibson@ttu.edu
Office: 27 Science Building
Ph. D. Physics, University of Oklahoma (1982)
B. S. Physics, Cameron University (1977)
Web links
Personal Home Page
Teaching Page
Research Page
Research Interests
Much of my current work centers on the development and use of modern computational techniques, especially highly concurrent methods. In the late spring of 2000 my group constructed the department's original 16-node Beowulf cluster (named Gamera) for under $15,000 to support our research. A newer and more powerful 16-node cluster (Gamera Mark V) with quad-core processors went online in February of 2008. These systems have been used to study positron-molecule collisions as well as Monte Carlo simulations of surface flashover for high-voltage applications and models of lipids in cell membranes.
Selected Publications: