---
Mu Camelopardaris
---
Mu Camelopardaris is an intermediate polar variable star. These are cloose binary stars where one member is a white dwarf that is accreting matter from a main sequence companion. The white dwarf has an intermediate-strength magnetic field that channels the accreting matter in acretion curtains above the white dwarf magnetic poles. As this matter accrets onto the surface of the white dwarf, the orbital period can change. Monitoring this change by accurate timing of the eclipse minima, can provide considerable information regarding the physics of the binary.
I spent several nights during February 2013 observing this star, primarily to see if my equipment would be suitable for observing short-term variations in the orbital period. In the end, although some good data was obtained, the computer clock was not sufficiently accurate for the sort of measurements that were required. Currently I am investigating ways of keepiing the computer clock accurate from an observatory without internet access.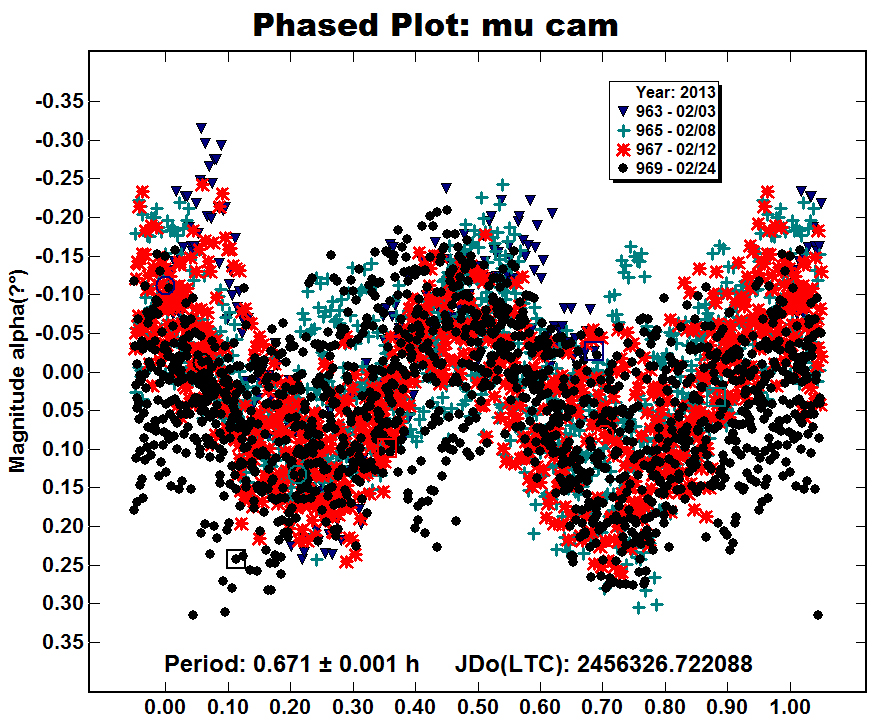 Lightcurve results for Mu Cam. Primary eclipse period was 0.6710 hours with an amplitude of about 0.4 magnitude.