M59 NGC 4621
| | |
| --- | --- |
| Object Type | Galaxy E3 |
| Constellation | Virgo |
| Magnitude | 9.7 |
| Size | 5.5' x 4.0' |
M59 and M60 are bright galaxies that are members of the Virgo cluster. M60 is the larger and brighter of the two, close to the centre of the photograph. In the telescope it appears as a bright eliptical haze. Just to the north west is the companion galaxy NGC 4647. M59 is further to the north west. It appears as a moderately bright and fairly featureless haze.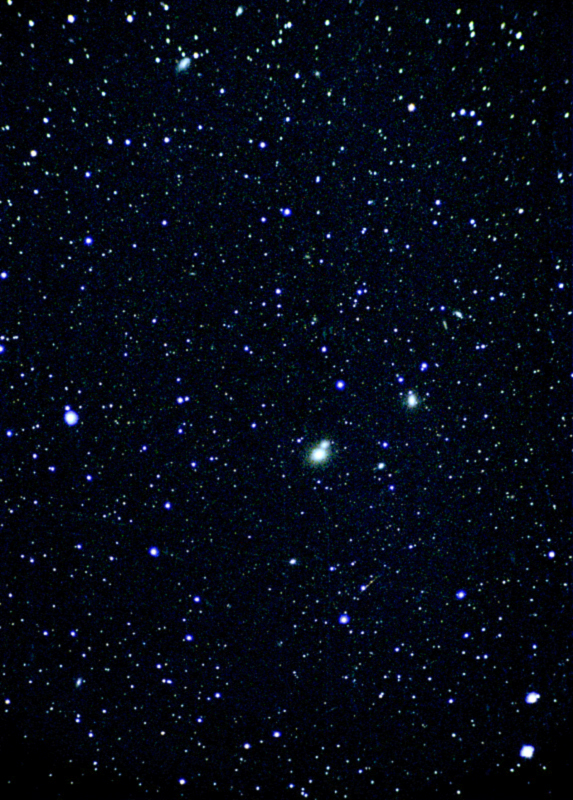 60 minutes exposure on Fuji Super HG II 400 film. 5" f/5 refractor, prime focus.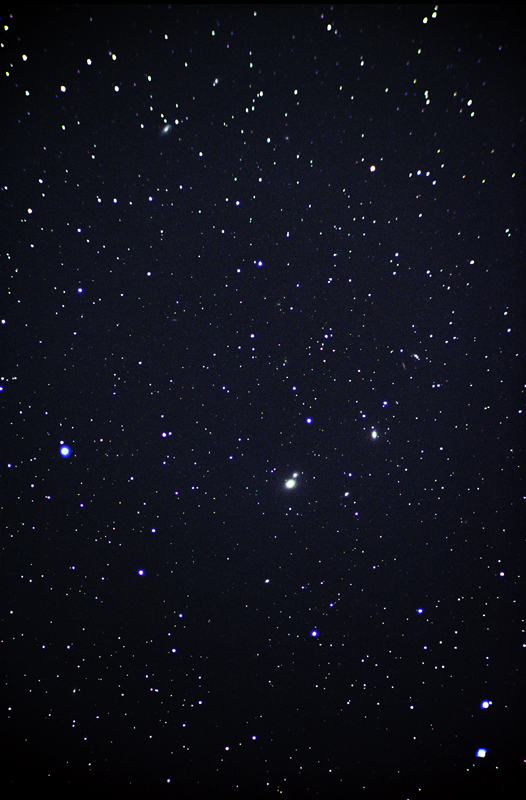 45 minutes exposure on Fuji Superia 400 film. 5" f/5 refractor, prime focus.
Being part of the Virgo supercluster, there are numerous other fainter galaxies in the region. The above photograph is reproduced below with 27 galaxies indicated, and their details listed in the table below.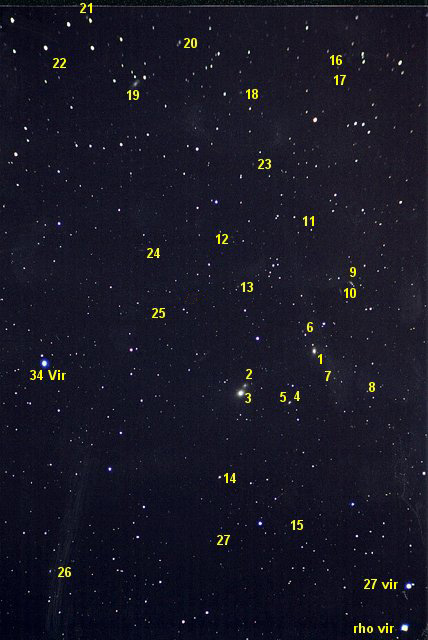 | | | | | | | |
| --- | --- | --- | --- | --- | --- | --- |
| NUMBER | NGC | OTHER | R.A. | DEC | MAG | SIZE |
| 1 | NGC 4621 | M 59 | 12 42.0 | +11 38 | 10.6 | 5.0'x3' |
| 2 | NGC 4647 | | 12 43.5 | +11 35 | 11.9 | 3.0'x2.0' |
| 3 | NGC 4649 | M 60 | 12 43.7 | +11 33 | 9.8 | 7.5'x6.0' |
| 4 | NGC 4638 | | 12 42.8 | +11 27 | 12.1 | 2.0'x1.0' |
| 5 | NGC 4637 | | 12 42.9 | +11 26 | 14.8 | 1.0'x0.5' |
| 6 | | IC 3672 | 12 42.1 | +11 45 | 14.5 | 0.9' |
| 7 | | IC 3665 | 12 41.8 | +11 29 | 15.1 | 1.0'x0.6' |
| 8 | | IC 3653 | 12 41.2 | +11 23 | 14.8 | 0.7' |
| 9 | NGC 4606 | | 12 40.9 | +11 55 | 12.7 | 2.7'x1.4' |
| 10 | NGC 4607 | | 12 41.2 | +11 55 | 13.8 | 3.6'x0.8' |
| 11 | | PGC 42586 | 12 14.9 | +12 15 | 14.9 | 1.0'x0.6' |
| 12 | NGC 4640 | | 12 43.0 | +12 17 | 14.4 | 1.4'x0.7' |
| 13 | NGC 4641 | | 12 43.1 | +12 03 | 14.2 | 1.1'x0.9' |
| 14 | NGC 4660 | | 12 44.5 | +11 11 | 12.2 | 2.2'x1.6' |
| 15 | | IC 3704 | 12 43.8 | +10 46 | 14.8 | 1.2'x0.3' |
| 16 | | IC 3631 | 12 39.8 | +12 58 | 14.6 | 1.0'x0.7' |
| 17 | | IC 3635 | 12 40.2 | +12 52 | 15.0 | 0.6' |
| 18 | NGC 4620 | | 12 42.0 | +12 57 | 13.2 | 1.8'x1.5' |
| 19 | NGC 4654 | | 12 44.0 | +13 08 | 11.1 | 5.2'x2.8' |
| 20 | NGC 4639 | | 12 42.9 | +13 15 | 12.2 | 3.2'x2.3' |
| 21 | NGC 4659 | | 12 44.5 | +13 30 | 13.1 | 1.7'x1.2' |
| 22 | | IC 3742 | 12 45.5 | +13 20 | 14.1 | 1.7'x0.8' |
| 23 | | IC 810 | 12 42.1 | +12 36 | 14.4 | 1.6'x0.5' |
| 24 | | IC 3718 | 12 44.8 | +12 21 | 14.1 | 2.7'x0.9' |
| 25 | | IC 3720 | 12 44.8 | +12 03 | 15.0 | 1.7'x0.9' |
| 26 | NGC 4694 | | 12 48.3 | +10 59 | 12.7 | 4.2'x2.5' |
| 27 | | IC 3727 | 12 45.1 | +10 54 | 14.6 | 1.2'x1.0' |