---
GSC 0540:0848
---
GSC 0540:0848 is a 15th magnitude star in the constellation Equuleus. I discovered it to be variable in July 2011 on images I had taken on July 6. Initially the lightcurve puzzled me considerably; a very fast rise in brightness, followed by an almost equally rapid fade and a relatively long period near minimum brightness. the total variation was about 1.1 magnitudes. It did not help that the period was almost exactly 24 hours. This meant it was extremely difficult to observe the full lightcurve! Then one time I was teaching a class about variable stars when I suddenly recognised one of the lightcurves on the screen, an RR lyrae-type lightcurve. It was the same as the one I had been puzzling over. The class immediately went off on a tangent!
RR Lyrae stars are sometimes known as "Dwarf Cepheids", although they are actually quite different from Cepheids, both chemically and location within the galaxy. RR Lyrae stars and also older, population II stars. One important property of RR Lyrae stars is that they are all approximately the same absolute magnitude (-0.7), and so can be used as a distance indicator. Since the star has an apparent magnitude of about 15.6, it would be at a distance of about 18,000 lightyears, not accounting for any interstellar absorption.
Analysis of the data resulted in 2 possible periods. One of about 24.36 hours and the other of 12.1341 hours. Both results are presented below. The 12.1341 hour period gives lower residules and is to be prefered without more observations. The amplitude is about 1.1 magnitude.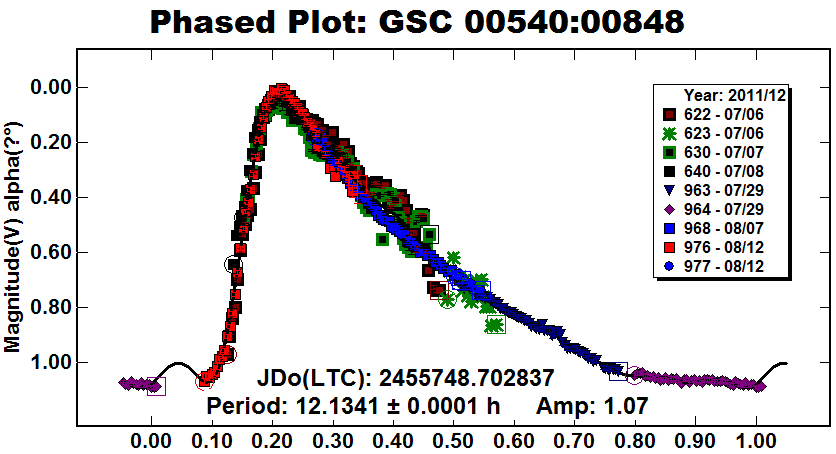 Lightcurve results for GSC 0540:0848.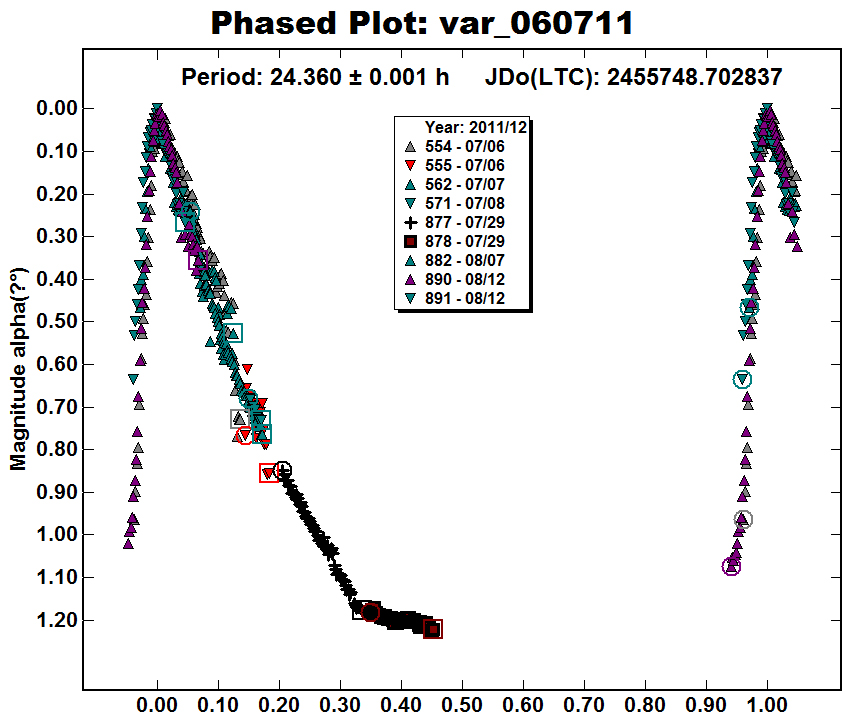 Lightcurve results for GSC 0540:0848.