NGC 5846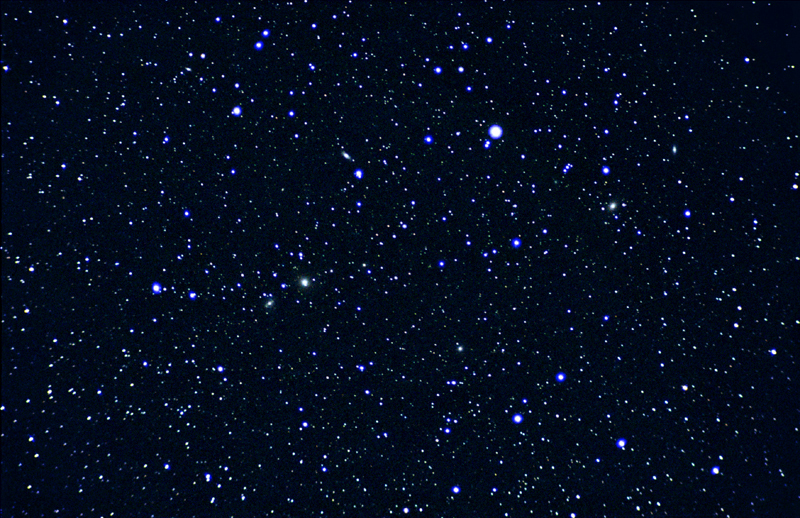 45 minutes exposure on Fuji Superia 400 film. 5" f/5 refractor, prime focus.
NGC 5846 is the brightest member of a small group of galaxies in the south eastern portion of Virgo, about 1 degree east of the star 110 virginis. All of these galaxies belong to the Virgo cluster.
The brightest star in the photograph is 110 virginis. The galaxies are identified in the image below by numbers starting from the right (west) that correspond to the list below. Many of these galaxies are probably too faint for visual observing but how many of them can you find?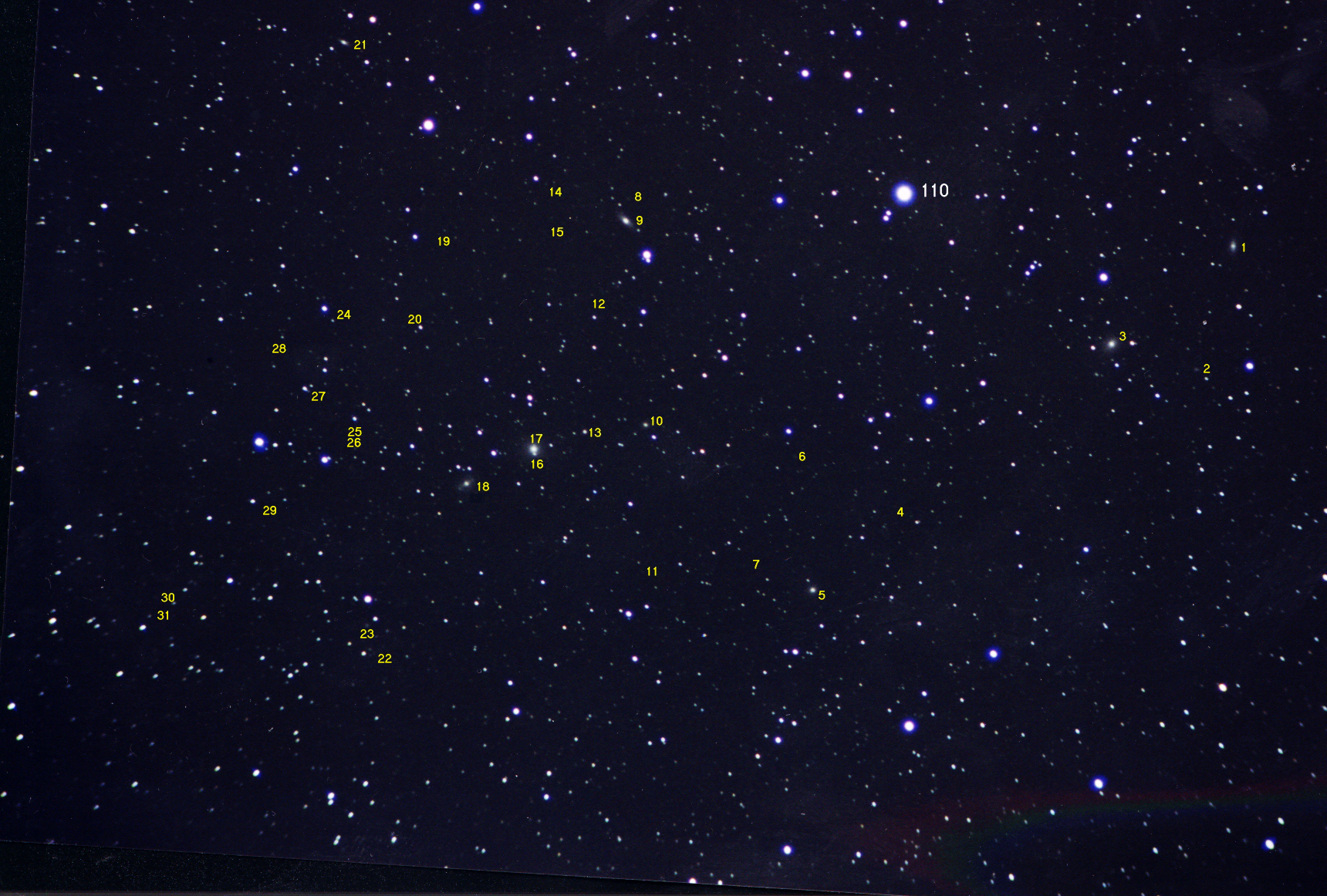 45 minutes exposure on Fuji Super HG V 400 film. 5" f/5 refractor, prime focus.
Below are three charts of the region to help observers locate the area and the galaxies. The first chart is a view field chart for locating the area. The second is a chart of the region covered by the photograph but showing stars only to magnitude 12.5. This should assist observers in familarizing themeselves with the region. The third chart is the same except that it shows stars to 16th magnitude.
---
| | | | | | |
| --- | --- | --- | --- | --- | --- |
| NGC | OTHER | R.A. | DEC | MAG | SIZE |
| NGC 5806 | PGC 53578 | 15 00 00.7 | +01 53 28 | 12.4 | 3.0'x1.5' |
| NGC 5811 | PGC 53597 | 15 00 27.5 | +01 37 22 | 14.5 | 0.9'x0.7' |
| NGC 5813 | PGC 53643 | 15 01 11.2 | +01 42 08 | 11.5 | 4.1'x2.9' |
| | MAC 1503+0122 | 15 03 17.9 | +01 22 56 | --- | --- |
| NGC 5831 | PGC 53770 | 15 04 07.0 | +01 13 11 | 11.5 | 2.0'x1.7' |
| | MAC 1504+0131 | 15 04 08.5 | +01 31 19 | --- | --- |
| | MAC 1504+0117 | 15 04 42.9 | +01 17 27 | --- | 0.2' |
| | MAC 1505+0208 | 15 05 23.2 | +02 08 49 | --- | --- |
| NGC 5838 | PGC 53862 | 15 05 26.6 | +02 06 01 | 11.9 | 4.1'x1.4' |
| NGC 5839 | PGC 53865 | 15 05 27.5 | +01 38 05 | 13.7 | 1.3'x1.1' |
| | MAC 1505+0117 | 15 05 37.5 | +01 17 57 | --- | 0.2' |
| | MAC 1505+0154 | 15 05 50.7 | +01 54 33 | -- | --- |
| NGC 5845 | PGC 53901 | 15 06 00.8 | +01 38 01 | 12.5 | 0.8'x0.5' |
| | MAC 1506+0211 | 15 06 03.1 | +02 11 06 | --- | --- |
| | MAC 1506+0205 | 15 06 11.0 | +02 05 37 | --- | --- |
| NGC 5846A | PGC 53930 | 15 06 29.0 | +01 35 24 | 13.8 | 0.4'x0.3' |
| NGC 5846 | PGC 53932 | 15 06 29.4 | +01 36 36 | 10.0 | 3.5'x3.5' |
| NGC 5850 | PGC 53979 | 15 07 07.3 | +01 32 31 | 10.7 | 4.3'x4.0' |
| | MAC 1507+0206 | 15 07 07.7 | +02 06 49 | --- | --- |
| | MAC 1507+0154 | 15 07 32.4 | +01 54 51 | --- | 0.2' |
| NGC 5854 | PGC 54013 | 15 07 48.2 | +02 34 09 | 12.7 | 2.2'x0.7' |
| | MAC 1508+0109 | 15 08 08.6 | +01 09 43 | --- | --- |
| | PGC 54039 | 15 08 09.8 | +01 14 57 | 14.3 | 1.4'x0.8' |
| | MAC 1508+0157 | 15 08 10.8 | +01 57 03 | --- | --- |
| | MAC 1508+0141A | 15 08 14.4 | +01 41 53 | --- | --- |
| | MAC 1508+0141 | 15 08 21.1 | +01 41 23 | --- | --- |
| | MAC 1508+0147 | 15 08 23.1 | +01 47 52 | --- | --- |
| | MAC 1508+0153 | 15 08 47.1 | +01 53 51 | --- | --- |
| | MAC 1509+0132 | 15 09 01.0 | +01 32 43 | --- | --- |
| | | | | | |
| | MAC 1510+0121 | 15 10 01.5 | +01 21 27 | --- | 0.3' |
| NGC 5871 | | 15 10 06.0 | +00 31 00 | --- | --- |
| | MAC 1510+0119 | 15 10 07.5 | +01 19 48 | --- | --- |