NGC 3576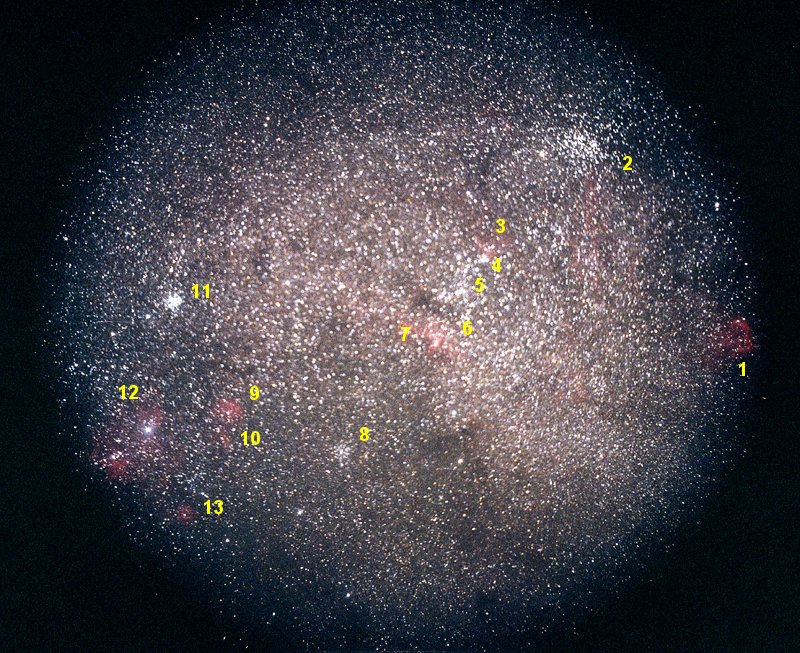 30 minutes exposure. Konica 3200 film.
6" f/3.75 Schmidt-newtonian at prime focus.
NGC 3576 is a small emission nebula about half way between NGC 3372 (partly visible at the right edge) and IC 2948, visible at the left edge. There are numerous other emission nebulae and open clusters visible in the photograph. Some of the main ones are listed below.
Number
Designation/Name
R.A.
Dec
1
NGC 3372
The Keyhole Nebula
10 44.0
-59 30
Image
2
NGC 3532
11 05.5
-58 44
Image
3
RCW 54
11 11.4
-60 04
4
Hogg 11
11 11.6
-60 23
5
Cr 241 (Tr 18)
11 11.6
-60 39
6
NGC 3576/79/81/82/84/86
11 12.6
-61 12
7
NGC 3603
11 15.1
-61 16
8
IC 2714
11 17.3
-62 43
9
RCW 60 (Gum 39)
11 28.9
-62 36
10
IC 2872
11 28.7
-62 54
11
NGC 3766
11 36.3
-61 37
Image
12
IC 2948
The Running Chicken Nebula
11 36.7
-63 00
image
13
RCW 61 (Gum 41)
11 30.4
-63 48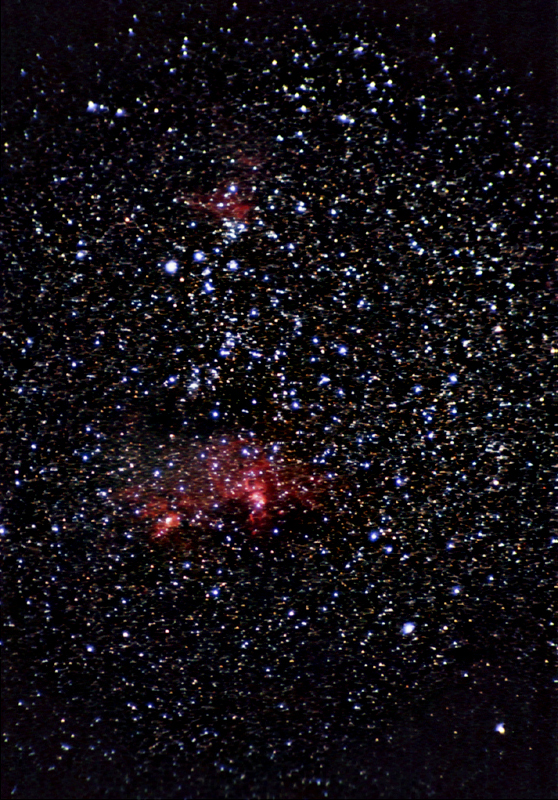 45 minutes exposure. Fuji Super HG V 400 film.
5" f/5 refractor at prime focus.

This image shows why the region around NGC 3576 has received so many NGC designations. There is considerable dark nebulosity entwined with the bright regions. The bright knot to the left of NGC 3576 is NGC 3603. (No 6 in the table above) The faint patch towards the top of the image is Hogg 11. (No 4 in the table above)