NGC 248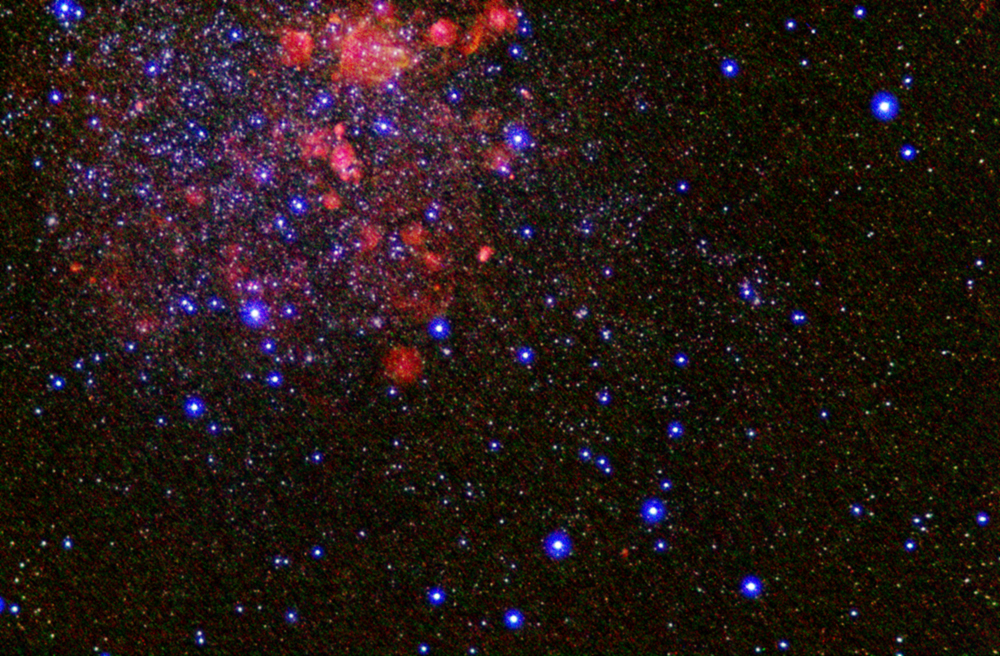 Combination of 10, 3 minute images with an H-alpha filter, 5, 3 minute images with an SII filter,
and 9, 3 minute exposures using an OIII filter.
SBIG ST-8XE CCD. 5" f/5 refractor at prime focus.
NGC 248 is part of a large emission nebula complex in the southern region of the Small Magellanic Cloud.
Although the SMC is usually considered poor in deep sky objects when compared to the LMC, there are still numerous objects within the cloud. Those with NGC designations at indicated in the image below and listed in the following table. As can be seen, these represent only a small portion of those imaged.
| | | |
| --- | --- | --- |
| Number | NGC/IC | Type |
| 1 | NGC 220/222 | Open Clusters |
| 2 | NGC 231 | Open Cluster |
| 3 | NGC 242 | Open Cluster |
| 4 | NGC 248 | Emission Nebula |
| 5 | NGC 256 | Emission Nebula |
| 6 | NGC 249 | Emission Nebula |
| 7 | NGC 261 | Emission Nebula |
| 8 | NGC 267 | Emission Nebula |
| 9 | NGC 265 | Globular Cluster |
| 10 | NGC 269 | Globular Cluster |
| 11 | NGC 294 | Emission Nebula |
| 12 | NGC 290 | Open Cluster |