NGC 1866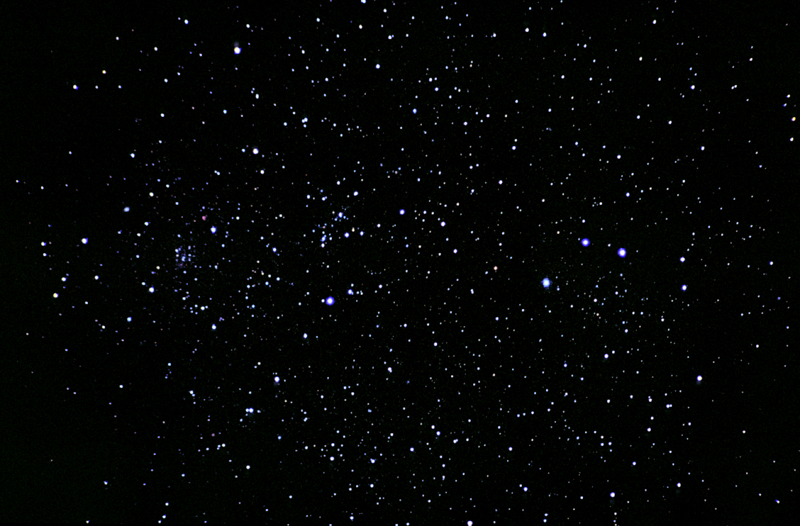 45 minutes exposure, Kodak Elite 400 slide film.
5" f/5 refractor at prime focus.
NGC 1866 is an outlying cluster in the Large Magellanic Cloud. At 10th magnitude it is not a difficult object int he telescope. However it is very small and so moderate magnification is required to distinguish it from the surrounding stars.
The cluster is listed as an open cluster However its appearence in colour, compactness and shape is more like that of of a globular cluster, especially when compared to other open clusters in the field. Being close to the Large Magellanic cloud, there are numerous other deep-sky objects in the region. Some of these are indicated on the image below, and their details listed in the table below that.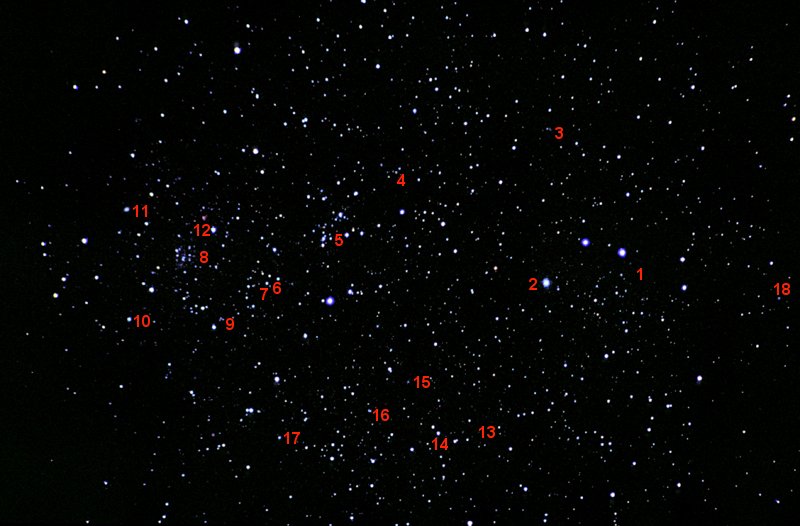 | | | | | | | |
| --- | --- | --- | --- | --- | --- | --- |
| NUMBER | NGC | TYPE | R.A. | DEC | MAG | SIZE |
| 1 | NGC 1859 | Open Cluster | 5 11.4 | -63 15 | | |
| 2 | NGC 1866 | Open Cluster | 5 13.5 | -65 28 | 9.8 | 5.0' |
| 3 | NGC 1892 | Galaxy | 5 17.1 | -64 58 | 12.8 | 2.8' x 0.7' |
| 4 | NGC 1923 | Open Cluster | 5 21.0 | -65 30 | | |
| 5 | NGC 1925 | Open Cluster/Nebula | 5 21.8 | -65 48 | | |
| 6 | NGC 1933 | Open Cluster | 5 22.2 | -66 09 | | |
| 7 | NGC 1932 | Open Cluster | 5 22.4 | -66 09 | | |
| 8 | NGC 1948 | Open Cluster/Nebula | 5 25.5 | -66 15 | | |
| 9 | NGC 1941 | Nebula | 5 23.1 | -66 23 | | |
| 10 | NGC 1951 | Open Cluster | 5 25.9 | -66 36 | | |
| 11 | NGC 1978 | Globular Cluster | 5 28.6 | -66 14 | 9.9 | 2.7' |
| 12 | Anonymous | Nebula | 5 25.9 | -66 05 | | |
| 13 | NGC 1862 | Open Cluster | 5 12.2 | -66 08 | | |
| 14 | NGC 1867 | Open Cluster | 5 13.5 | -66 17 | | |
| 15 | NGC 1882 | Open Cluster | 5 15.2 | -66 07 | | |
| 16 | NGC 1887 | Open Cluster | 5 15.8 | -66 18 | | |
| 17 | NGC 1902 | Open Cluster | 5 18.1 | -66 37 | | |
| 18 | NGC 1831 | Open Cluster | 5 06.1 | -64 55 | 11.0 | |