Physics 5305 (Statistical Physics) Web Page

,

Spring, 2010




10:00-10:50AM, Monday, Wednesday, Friday

, Science Room 10


Attention

!!
This course is finished!! It will be taught again in Spring, 2012!
Some of these Physics 5305 pages are under construction!


Course

Syllabus. Library Research Project Rules.


Spring, 2011 TTU

Academic Calendar. Final Exam Schedule

. Last Update, 5/13/2011.


Announcements

Lectures

Exams Homework

---
Instructor & Contact Information

Dr. Charles W. Myles,

Professor of Physic

s,

Office: Sc. Rm 18.

Phone

: 742-3768.


Office Hours

: Right after class plus 3pm-4pm MWF & by appointment

.

E-mail

: Charley.Myles@ttu.edu.
A class email distribution list will be developed & we can have email discussions

. It is vital that I have your

correct email address, that you tell me if it changes, & that you check your email

DAILY!! Here

is

an important email announcement!!




Books

Primary

Textbook: Fundamentals of Statistical & Thermal Physics, by F. Reif.
This book is

REQUIRED

!! I use because it has nice explanations of key concepts. Major portions of the course will use it.


NOTE

!! This book is old (first published in 1965)! The orginal publisher, McGraw-Hill, stopped printing it. However,

Waveland Press

publishes it now. It is available on-line from them Here. The Amazon page on it is

Here

. Topics will be discussed in approximately the same order as the book table of contents, however, material from sources other than this book may be used. An on-line search finds both new & used copies & both hardcover & paperback versions. A google search gets 13,400 hits (results are Here) with prices ranging from $34 - $140!!


I

strongly encourage you to shop & find the best price for you

!

Given the book cost, don't you think it would be worthwhile to

READ IT

???

UndergradTextbook:

Introduction to Statistical Mechanics & Thermodynamics, by Keith R. Stowe. (John Wiley, 1984). Book webpage.
Syllabus, Course Topics & Objective


Topics

:

Selected sections from Chapters 1-10 of Reif's book. Detailed coverage is announced as we go.

The

Syllabus

is Here.

PLEASE READ IT

!! Course details (discussions of Exams, Homework, grading scheme) are found there.

Objective

:

To introduce students to

graduate level statistical & thermal physics

& its applications &

for students

to learn the fundamentals of this important topic.




Help Resources & Hints

A Document with links to Statistical Physics web resources is Here.

Hints

: This course is sometimes difficult for students. This is partially because it is (in places) mathematical & partially because it is (in places) abstract. Unless you are a genius, the only way to succeed in this course is by VERY HARD WORK

!

This means devoting MANY Hours outside of class for every hour in class. It also means at least trying to work every assigned problem!

STUDENT RESPONSIBILITIES

THIS IS A GRADUATE COURSE! I expect you to come to class prepared, do the homework,

READ

the material

BEFORE

I lecture over it, & keep up as we go along!



Physics Level, Pre-Requisites, Objective & Topics
The course is designed mainly for MS & PhD students in physics. However, graduate students in other areas (math, engineering, chemistry) sometimes take it and are always welcome.

A knowledge of the

mathematics of probability & statistics

is assumed! A knowledge of

elementary quantum mechanics

is assumed.

S

ome knowledge of

the Hamiltonian Dynamics part of Classical Dynamics

would also be helpful, but isn't essential. It would be helpful (but it isn't vital) to have had (at least) a senior level course similar to our

Physics 4302

. This is a

GRADUATE

course!! The text is at a level somewhere between some undergraduate & some graduate texts.





Attendance

I don't take roll & I have no specific attendance policy. However, isn't it obvious that (unless you are a genius) class attendance is required

to get a good grade (or to learn something!)? If attendance becomes a problem, I reserve the right to institute brief daily quizzes, to be added into the homework grade.


Important Announcements

&

Calendar Items will be posted on the Announcements Page, linked below. Also below are links to Pages where Lectures, Homework Solutions, & Exams (+ solutions) will be posted.
---
Announcements & Calendar Items
Announcement Page
:
Has announcements & calendar items. Please check it often!
---
Lectures, Homework Solutions, Exams & Solutions

Click

Here to find out how to reduce the # of pages when printing a Power Point file!


Click

Here

to find out how to get Power Point, Word, & other software for free or almost free!

COPYRIGHT STATEMENT

:

All lectures & exams are copyrighted & owned by

Charles W. Myles!

No reproduction &/or use of any of these documents other than by students in this course is allowed!


Lecture Page

: Has

SOME

lectures in Power Point format.

A goal this semester is to have more of these posted

!



Exams Page: Has exams (Word format) & solutions (.jpg format).

A good strategy is to try to solve old exams

BEFORE

looking at the solutions. You

CAN'T LEARN PHYSICS

by copying solutions! New exams & solutions will be posted (after the exam!).

The exams are composed

uniquely

for this semester! This should be obvious since the old exams are freely downloadable by students in this course.



Homework Page: Has homework assignments. Solutions

(.jpg format) will be posted shortly after the due date.



You are

strongly encouraged

to form study groups to work on homework together!

This is how physicists work in real situations!

NO CONSULTATION

with people who had this course previously is allowed!

NO

use of problem solutions posted in previous years is allowed! This is on the honor system! It will do you no good to merely copy old solutions! Copying solutions will

NOT

teach you physics! Problems similar to the assigned ones have been known to appear on the PhD Qualifying Exam!!!

I am also aware that, on the web, there exist solutions to some or all of the problems in our text. Just copying these (or even copying solutions from previous years!) & handing them in as your own is

CHEATING

!!

Anyone caught cheating will,

at a minimum, receive an "F" in this course!

TTU has strict policies against cheating & severe penalties for it, including possible expulsion from the university.

Cheating also defeats the purpose of having you solve problems,

which is to help you LEARN

physics

. As physics graduate students, you should by now know that

the

ONLY

way to learn physics

is to

DO PHYSICS

YOURSELF

(or with friends)

by

W

ORKING

MANY, MANY, MANY

PROBLEMS

!!
---
Miscellaneous Topics

1.

Dr. Myles

: Do you want to know more about him (education, experience, research, personal, etc.)? See his Homepage & Research Page.
A page about his

Future Teaching

is Here

.




2.

For some physics news, go to Physics Central. For news at a more advanced level, go to Focus News from the American Physical Society. For some

Physics Fun

,

click Here.


3. Check out the Top 10 most influential people of the last 1000 years! (Link borrowed from Dr. Tom Gibson!).




4.

Physics Contributions of 20th Century Women

!

Did you ever wonder why there aren't more women physicists? Actually, a number of women made very important contributions to many areas of physics in the 1900's. Here is a website which discusses this in detail. In the 21st Century, women are now playing many prominent roles in physics and the physics community. For example, the current Executive Officer of the the American Physical Society (a huge organization of ~50,000 research physicists world-wide!) is Dr. Kate Kirby. Further, her predecessor was Dr. Judy Franz. In addition, the most recent past President of APS was Dr. Cherry Murray. An indication that women are currently and almost always have been working at the forefront of research in the sciences is the fact that many women have been awarded Nobel Prizes in the sciences. So far, though, only two women have been Nobel Laureates in Physics. .

---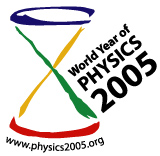 The
WORLD YEAR OF PHYSICS 2005
marked 100 years since
Albert Einstein
published 3 pioneering papers (
Relativity
,
Brownian Motion
,
Photoelectric Effect
), which changed physics forever & are considered the beginning of "modern" physics! (He won the
1921 Nobel Prize
for the Photoelectric Effect!). The
United Nations
,
the
US Congress
,
& the governments &
scientific societies
of many countries have endorsed it.
2005 events will highlight the vitality & importance of physics & bring physics excitement to the public.
For more information, click the image on the left.
---