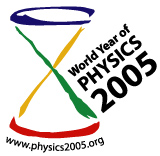 The
WORLD YEAR OF PHYSICS 2005
marked 100 years since
Albert Einstein
published 3 pioneering papers (
Relativity
,
Brownian Motion
,
Photoelectric Effect
), which changed physics forever & are considered the beginning of "modern" physics! (He won the
1921 Nobel Prize
for the Photoelectric Effect!). The
United Nations
,
the
US Congress
,
& the governments &
scientific societies
of many countries have endorsed it.
2005 events will highlight the vitality & importance of physics & bring physics excitement to the public.
For more information, click the image on the left.